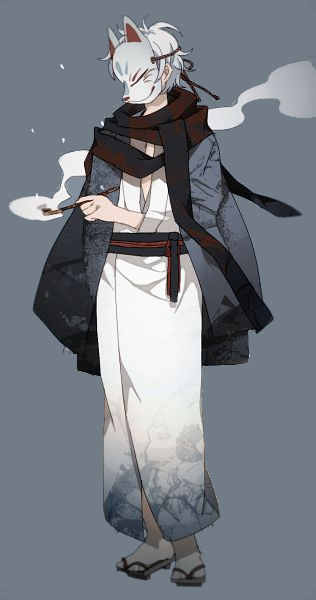 Name:
Masahiko (Righteous Prince) Hozuki
Alias:
: Masahiko no Moekiri (Masahiko of the Boiling Mist), Masahiko O Fukashin (Masahiko the Untouchable)
Clan:
Hozuki
Age:
21
Gender:
Male
Village:
Kirigakure
Rank:
Mizukage
Specialty:
Ninjutsu, Weaponry, Taijutsu
Elements:
Water, Wind, Boil Release
Appearance:
6'4. Skinny and very pale. Has short white hair and purple eyes like most men of his clan. Has extremely sharp shark-like teeth like most Mist Ninja.
Personality:
Coy and mischievous, intentionally says silly or provocative things and twists them around on others. During the war he was known to be exceptionally brutal, and this is still seen as with his Bloody Mist policy.
History:
Not much is known about Masahiko's childhood, since he was born in the same month that The Great War began. When he was 17 he assassinated the previous Mizukage, and while that would get him outlawed in most villages it was traditional in the Mist as the title was supposedly given to the most powerful and ruthless ninja, which led to him becoming the youngest Mizukage in the village's history.
During the war there are many accounts of him appearing alone on the battlefield, and releasing a boiling hot mist on his enemies before dispatching the ones who were not cooked alive with the Silent Killing technique. Using his clan's kekkai genkai, the ability to turn the body into a liquid, he was feared to be completely untouchable by physical means in battle.
At the first year of his reign as Mizukage, he implemented the Bloody Mist policy on the village. This policy stated that the graduating Academy class would be involved in a death match, and only the survivors would graduate to be Genin. For the last four years, from his coronation to present day, this has still been enforced upon students.