I know I'm out of character slots but I figured there was no harm in writing down a clan so I don't forget it.
Name:
Eienhana (Everlasting Blossom) Clan
Village(s):
Leaf, Sand, Mist.
Kekkai Genkai/Bloodtrait: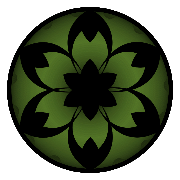 All Eienhana are born with the Sharinhana Dojutsu (The Wheel Flower). The Sharinhana allowed the user to focus chakra onto receptive objects (Such as summoning seals or paper bombs) from a distance, as long as they can maintain a clear line of sight. With practice this Dojutsu allows the user to see the chakra flow of humans and animals. However, this power is not equal to the Byakugan, as the Sharinhana cannot see through walls or thick smoke.
Additionally, the Eienhana clan is capable of using Wood Release.
Background:
The Eienhana clan date themselves back to the God Tree that originated all Chakra, while the oldest among them claim that the clan were the humans responsible for caring for the tree. In times of war the clan has always been reclusive, hiding inside their small temple in the mountains. Nobody knows exactly where the temple is located, simply that it is between the Leaf and Sand villages.
Inside the temple, among the clan there are four High Princes of the Eienhana clan who are rumored to care for Yugudorashiru (Yggdrasil, the World Tree), the tree who's roots connect all dimensions. Nobody, including the Princes, have been allowed to look upon the tree because of the techniques whispered to be sealed on its bark. Hence, every one of the four High Princes have had their eyes removed upon their coronation.
Recently, with the end of The Great War, the Eienhana clan ended its Isolation period and allowed the youngest generation of its members to be sent to the ninja villages for formal training.